Meet with Chime at Inman Connect New York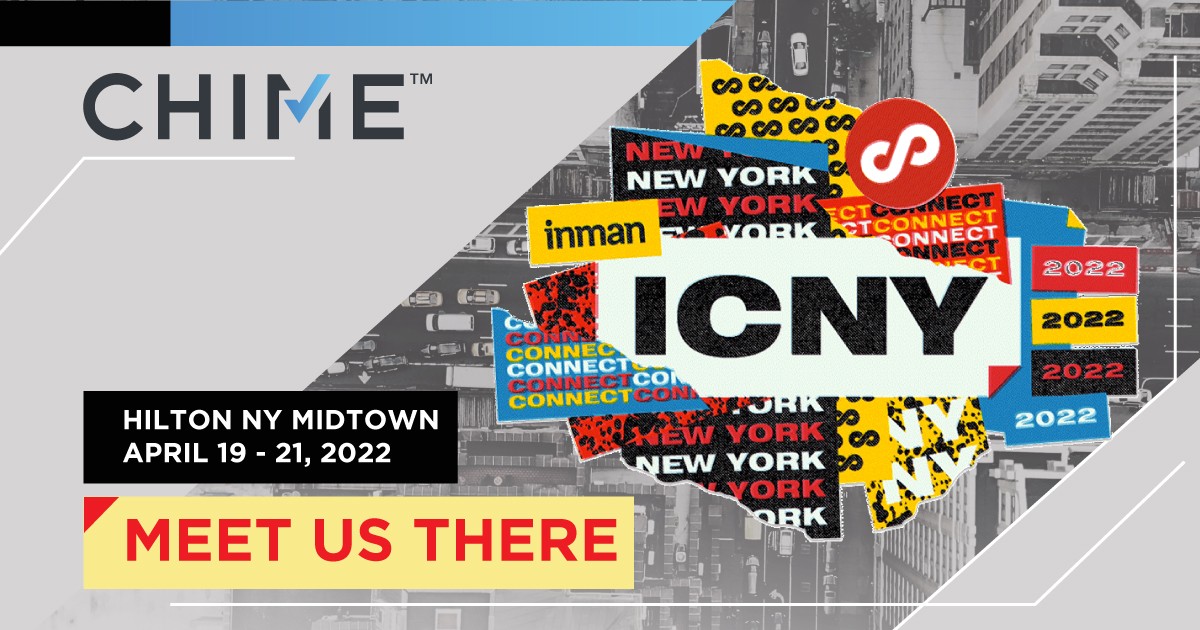 Phoenix, AZ - April 14, 2022 – Chime Technologies, an award-winning real estate technology innovator, today announced it will be onsite at Inman Connect New York, April 19 - 21st at the Hilton New York Midtown. Key executives will be onsite to discuss the recent launch of Chime's Enterprise Platform, expressly designed to help large brokerages accelerate profitable growth and increase agent productivity. Check our news announcement HERE . Stuart Sim, Vice President, Industry Development, and Joe Daee, Vice President, Enterprise & Strategic Partnerships, will be available to conduct demos and discuss recent news regarding Chime's award winning platform, and share insight into key customer success stories. Email here to schedule a time to meet.
WHAT: Inman Connect New York
WHEN: April 19th - 21st, 2022
WHERE: Hilton New York Midtown
"We are thrilled to be back at Inman Connect as there is no better place to meet with industry colleagues, trusted partners, and valued customers and prospects to discuss key industry trends and share best practices," said Sim. "These important discussions are critical in helping to inform our product roadmap and strategy as meeting the needs of real estate professionals through innovative technology continues to be our top priority."
To learn more about Chime, visit HERE.
About Chime Technologies
Chime is an award-winning real estate technology innovator headquartered in Phoenix, Arizona. Our AI-powered platform empowers real estate professionals, teams, and brokerages with the tools they need to automate lead generation operation, drive conversions, and grow their business. Chime Technologies operates as a US subsidiary of Renren, Inc. (RENN). For more information, visit www.chime.me/ .