Responding to COVID-19 together
At Chime, nothing is more important than the health and well-being of our customers, our employees, and our worldwide community. As the situation with COVID-19 unfolds, we're committed to giving you the support and resources to navigate this challenging time.
New Chime Features to Get Through COVID-19
Chime's Commitment during COVID-19: A Letter From Chime Sales VP
"While health and comfort and taking care of one another rules the day, we also want you to know that your partners here at Chime are well structured to handle this stressful period while operating with complete efficiency. We are fully focused as an organization to continue to support your activities and continue to be the hub for your real estate business."

"Some of the actions we've taken in recent weeks foreshadowed what many communities and governments are now mandating. All of our employees are working remotely through the end of March at a minimum. All of our platforms are up and running and our AWS servers here in the states are fully backed up and there are no signs of disturbance. There will also not be a gap in service or ongoing development & innovation. As this crisis passes we will be poised to continue to grow and provide an even better product to you, our clients."
Michael McGowan
VP of Sales at Chime
Chime Resource for COVID-19
Chime Webinar: How to navigate the housing market post COVID-19
Given this time of uncertainty it can be confusing to know up from down, left from right. The Fed making cuts to 0, states banning open houses and countries suspending mortgage payments has people confused and concerned.

Well, at Chime, we are working on tackling some of these concerns and several others.
View Webinar Recording Now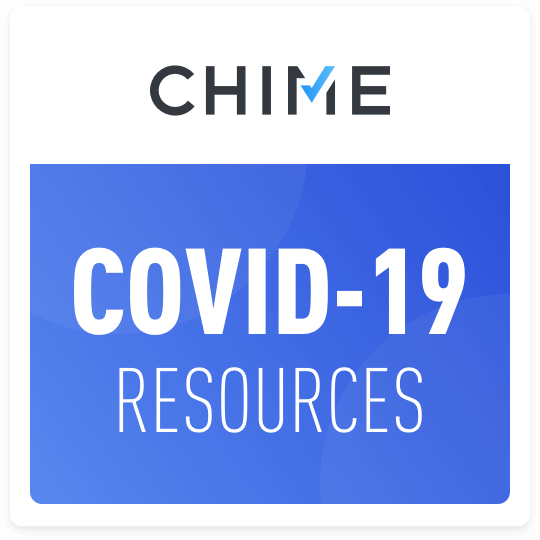 Chime Resources for Staying Productive During COVID-19
Your customers and maybe even you are doing your best to stay isolated or possibly even on self-quarantine due to the COVID-19 outbreak. However, this does not mean you cannot continue to do your best to stay connected and continue providing top-quality service to your clients. This article contains a few tips that Chime has pulled together to help you in keeping your audience engaged and in the loop as the world adjusts to this new hurdle.
View the Article Here