Chime Technologies Joins 2021 Re/Max R4 Event
AI-powered Platform Enables Agents to Drive Growth at Scale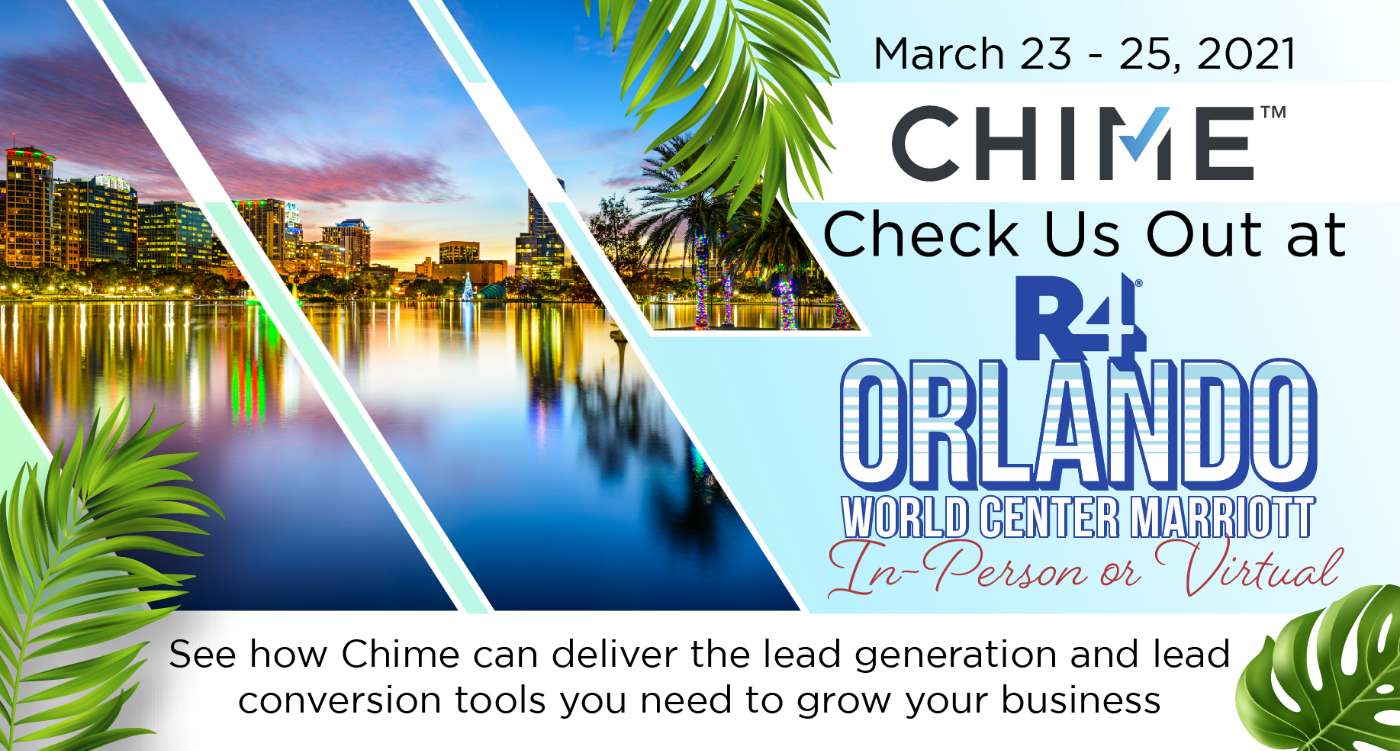 Phoenix, AZ - March 17, 2021 – Chime Technologies, an award-winning real estate technology innovator, will be onsite at the 2021 Re/Max R4 event next week. Taking place March 23-25, both live in Orlando, Florida and virtually from anywhere, the annual R4 convention brings together Re/Max affiliates nationwide to share best practices, network with the industry's most successful professionals, and learn about innovative solutions to move their business forward. As a longtime Re/Max partner, Chime will be onsite showcasing how the company's AI-driven platform, custom built for the real estate industry, can help agents, teams, and brokerages automate and accelerate business growth.
Quick Links:
• Read how Chime has helped agents and brokerages across the country
• See what we've been up to on our blog "Chiming In"
• Join our Facebook Community for insights on how to use Chime from real estate professionals
Given the ongoing challenges of the global pandemic, real estate professionals need technology solutions that can help them navigate market uncertainty, boost productivity, and increase conversions. Featuring unique innovations like live streaming capabilities and an intuitive AI-powered chatbot, Chime's award-winning platform empowers agents, teams, and brokerages with the tools they need to drive real business growth. Coupled with deep integrations and partnerships with the industry's leading technology providers, Chime ensures real estate professionals can focus on what they do best – serving clients.
"As the marketplace has grown increasingly dynamic over the past year, we've doubled down on our commitment to releasing new capabilities specifically designed to help our customers face new challenges and business demands head on," noted Mike McGowan, Vice President of Sales, Chime. "During the Re/Max R4 event, our team will showcase how our ever-expanding platform functionality can help real estate pros drive lead conversions and scale their business no matter the conditions."
For more information about the event visit the Re/Max R4 event site. To learn more about how Chime can help your business, join our Facebook Group or view our case studies.
About Chime Technologies
Chime is an all-in-one Sales Acceleration Platform for the real estate industry headquartered in Phoenix, Arizona. Its award-winning productivity suite offers a robust set of features that help real estate professionals and teams of all sizes run and grow their business. Chime Technologies operates as a US subsidiary of Renren, Inc. (RENN). For more information, contact support@chimeinc.com or 833-682-4463, or visit www.chime.me/.
Media Contact:
Sarah Murray
Attune Communications
781-378-2674
sarah@attunecommunications.com