Chime Releases Powerful Comparative Market Analysis Tool
Underpinned by Chime's proven CRM system and lead matching capabilities brokers can focus on high priority leads and stand out amongst intense market competition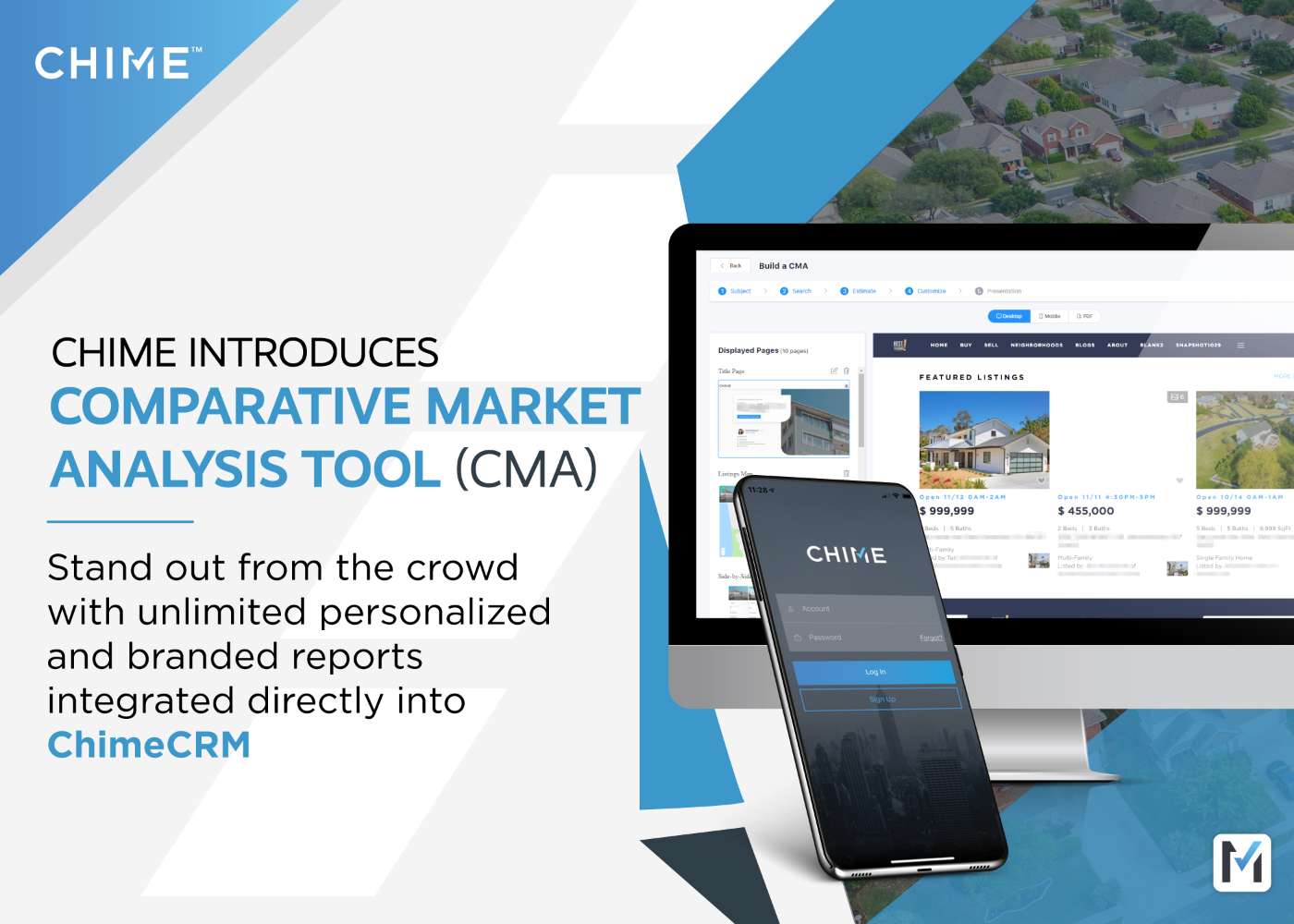 Phoenix, AZ and New York City, NY (INMAN CONNECT 2022) - April 19, 2022 – Chime Technologies, an award-winning real estate technology innovator, today announced a new Comparative Market Analysis (CMA) tool designed to help agents, teams and brokers drive both seller and buyer business. Available across the US, users can create personalized and branded market analysis reports for their clients without any restrictions on the number of CMAs conducted. In addition, the tool is fully integrated into Chime's CRM system and lead matching capabilities, enabling real estate professionals to prioritize which leads to further pursue and nurture to close. For more information or to request a free trial, visit chime.me.
By pulling in real-time accurate data from the MLS, Chime's CMA offering incorporates an estimated market value tool which provides the approximate value of a specific property based on comparable listings that have sold, are pending, or are still active on the market. It includes granular, detailed information on multiple factors such as average price per square foot and selling time as well as visualizations to help agents showcase the data in an easily digestible format. The Chime CMA tool also includes an Intelligent Pricing feature mapping home value to potential buyers in the area, enabling real estate pros to have a data-driven conversation with clients about their listing strategy. Unlike similar offerings, Chime's CMA provides brokerages the ability to create unlimited personalized and branded analysis reports and is integrated directly into the CRM system enabling users to seamlessly incorporate lead behavior tracking capabilities.
Powered by Chime's CRM system, the new CMA tool also provides agents with seller lead suggestions, highlighting deal opportunities as potential clients request a home valuation to sell their home. Users can then leverage the prebuilt templates and marketing plans within Chime to further expedite the lead engagement process. These advancements provide Chime customers with better insight into leads that have engaged with a listing and allow for deeper analysis of their current needs.
"Incorporating customer feedback and continuous innovation have been the hallmarks of our approach to delivering a proven technology platform," noted Steven Lopez, VP of Customer Success at Chime. "Over the past 18 months, customers have consistently cited the need to differentiate themselves given the influx of new agents and intense market competition. Our new CMA maps directly to that challenge and provides real estate pros with the tools they need to stand out from the crowd and convert on key opportunities."
For more information visit our blog or sign up for a free trial on our website.
About Chime Technologies
Chime is an award-winning real estate technology innovator headquartered in Phoenix, Arizona. Our AI-powered platform empowers real estate professionals, teams, and brokerages with the tools they need to automate lead generation operation, drive conversions, and grow their business. Chime Technologies operates as a US subsidiary of Renren, Inc. (RENN). For more information, visit www.chime.me/ .