Chime Partners with Geopoint Data to Provide High-Quality Seller Leads for All Agents
Adding the power of predictive data helps agents compete for elusive seller leads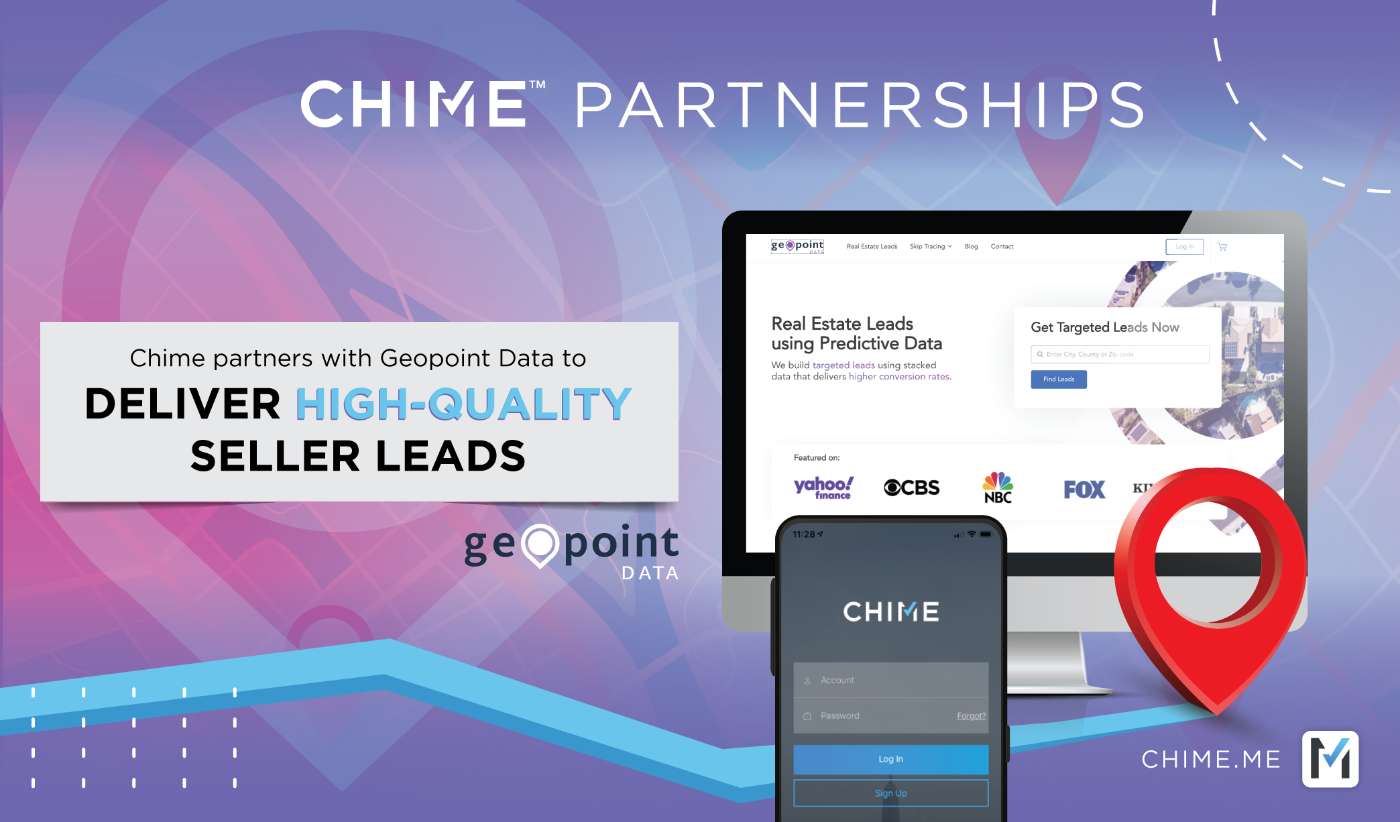 Phoenix, AZ - Aug 23, 2021 – Chime Technologies, an award-winning sales acceleration system for the real estate industry, today announced a strategic partnership with Geopoint Data. This partnership, the first of its kind in the real estate industry, combines Chime's AI-powered CRM with Geopoint's predictive data to help agents transform their seller lead program. By providing a new way for real estate pros to easily identify and pursue these elusive seller leads, agents can compete against industry heavyweights and fill their pipeline with high-intent opportunities. To learn more about this new partnership, check out our video.
Quick Links

• Watch our brief video on how the partnership works.
• Visit our blog for more details on this partnership.
• Check out our recent webinar with Geopoint Data.
• Interested in partnering with us? Get in touch.
Despite all the innovation taking place in the real estate market today, seller lead generation has remained virtually unchanged. Dated practices like home evaluation campaigns are rarely successful and while big data has become more commonplace, industry giants like Zillow Offer with deep pockets and massive brand recognition have swallowed up any further opportunity leaving many agents to abandon seller leads all together.
With Geopoint Data and Chime, agents can build a different kind of seller lead program and do so cost effectively. Unlike Google PPC or Facebook advertising campaigns that focus on high volume but low intent leads, Geopoint Data adds another layer of critical information to the data insights from Chime to instead deliver high intent opportunities. Seller leads generated from Geopoint Data are integrated directly into Chime's Smart Plans eliminating the burden of extensive follow up while improving conversion rates and often decreasing cost per closing.
"We have seen almost immediate results with Geopoint Data's seller leads, securing four listing contracts within 70 days!" said Tristan Ahumada, founder, LabCoat Agents. "The strategic partnership between Chime and Geopoint underscores the increasing value of applying powerful analytics to industry data to drive more meaningful insights and support agent success. Chime continues to set the bar high, strategically partnering with like-minded innovators to deliver the technology tools modern agents need. This latest partnership with Geopoint is just one of the many examples why Chime's platform sits head and shoulders above the rest."
"We are thrilled to partner with Geopoint Data to help our customers capture elusive seller leads," said Mike McGowan, vice president, Sales, Chime. "We will continue to align ourselves with technology innovators, market disruptors and industry game changers to address the challenges associated with lead conversion and help position our customers for long term success."
For more information, watch our recent webinar with Geopoint Data as we share how the two solutions work together to deliver high-quality seller leads.
About Chime Technologies
Chime is an award-winning real estate technology innovator headquartered in Phoenix, Arizona. Our AI-powered platform empowers real estate professionals, teams, and brokerages with the tools they need to automate lead generation operations, drive conversions, and grow their business. Chime Technologies operates as a US subsidiary of Renren, Inc. (RENN). For more information, visit www.chime.me/.
Media Contact:
Sarah Murray
Attune Communications
781-378-2674
sarah@attunecommunications.com